Role: Lead Visual Designer
American College of Radiology Site Design
"Founded in 1924, the American College of Radiology® is at the forefront of radiology evolution, representing more than 38,000 radiologists, radiation oncologists, nuclear medicine physicians and medical physicists." – Taken directly from their about us page :P
ACR is basically a source for radiologists to continue their education. It gives them access to new case studies and the ability to way in on the discussion. Plainly put, if you are a radiologist and aren't a member… well then, we're gonna need to see some verification.
The goal of the redesign was to create a system of modules that can co-exist in many different arrangements to communicate any goal of the organization. These modules would have to function in very different ways and flow seamlessly in their aesthetic. Essentially, giving the client the ability to compile different modules and create any page a user may need efficiently and without worry of breaking the feel of the site.
Where We Started (Original Site Design)
In the ever-changing world of design, a dated website can impact a user in many ways. As they use the site they will be looking for certain conventions picked up unknowingly while surfing more current websites. When these standards are not met, the user will feel lost and in some cases frustrated. As design trends evolve, so does the user's individual sense of perception and aesthetic. Although they may not be able to express it, their intuition is longing for a more emotional connection, and the original ACR website was lacking in architecture and visual polish.
New Take On The ACR Brand
Our goal was to use web-friendly fonts while applying a new crisp application of color and space.
New Homepage Design
First impressions are everything, and the homepage of a website is no different. Although we can never assume where a user will enter a particular site, it's looks and overall emotional feel can make or break their relationship with your brand. Whether you would like the user to gain a sense of trust in your business or simply generate a feeling of usefulness, a well organized and aesthetically balanced homepage can do the trick.
Responsive Design
Developing a system of modules that work together in many different configurations would be pointless without experiencing them on all devices, am i right?
Modular Design System
With the American College of Radiology being so impactful to the day to day of Radiologists worldwide, it was clear that we were going to need to create modules and elements for an endless array of use cases. They would need to be arranged in the most useful way possible and blend seamlessly into one another. Here is a small sample size of some of them.
IA and Wireframing
Nearly 100 unique page templates were designed based on an intensive IA discovery process.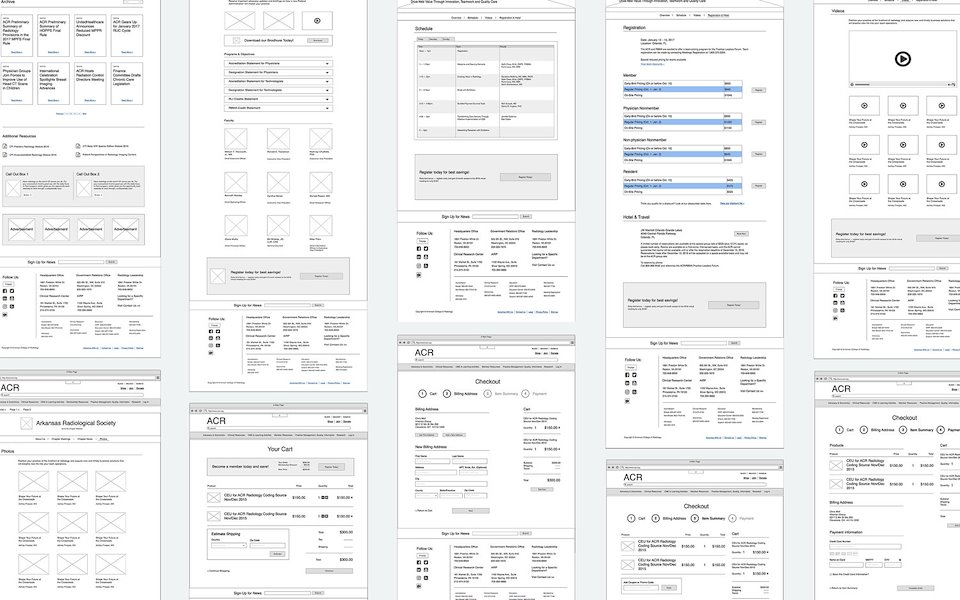 Personas
6 different user personas were developed after careful review of user data and user testing.

American College of Radiology Site Design
| | |
| --- | --- |
| Role | Senior Visual Designer |
| For | Hileman Group |
| Date | December 2017 |
| Type | Module based responsive design system |
| URL | www.acr.org |